Wall Street English is heading to Poland, on its search to find a franchise partner to expand its network of English language learning centers into

Eastern Europe

. Read on to find out about this business opportunity in Poland.
Poland, a Strong Market Where English Skills are Essential
Center-based learning already accounts for around half of the $320 million private English language learning market in Poland. In a survey carried out by Morar Consultancy (now Savanta) in June 2018, 50% of Poles currently consider themselves to have either "no" or "basic" levels of English, while an impressive 90% of respondents indicated a desire to learn English.  
In the broader marketplace, more than 25% of Poles are either currently learning or aspire to learn English – and nearly 60% would like to reach an advanced level.
And why is there such a demand for English language learning? The same survey revealed that Polish citizens recognize that learning English can help their career prospects. 46% of respondents expected it would help them to find better jobs and 29% said that it would help their promotion prospects once they are in work.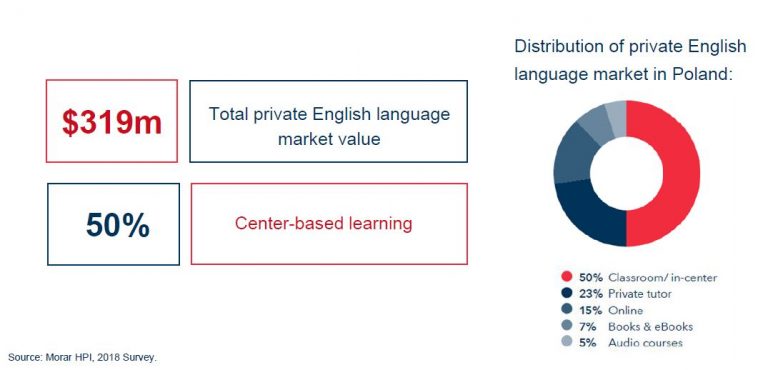 The Business Opportunity in Poland 
Through the pandemic, Wall Street English has evolved its methodology, now delivering courses online-only and through the global network of centers. This has increased its addressable market and capture greater market share, having demonstrated that the concept is resilient to face times of recession and highly suited for the needs of today's consumers.
Lex Baker, Director of New Business Development at Wall Street English, explains: "Right now, conditions are set for success in Poland and after extensive research, Wall Street English recognizes this as a significant market opportunity. We're looking for the right person or group to invest in the market. Someone who can make the most of our business model and bring innovative, personalized English courses to Polish adult learners."  
Along with being the 8th largest economy in the Eurozone, Poland has the added attractiveness of large urban hubs, with 4 cities of more than 500,000 inhabitants and a bustling international capital in Warsaw with a population of 1.75 million. All of this means that Poland is ready for lift off in this sector. 
Lex continues: "We are looking for a master franchisee interested in opening various centers in Poland over the next 3-4 years. This is a great investment opportunity in a strong economy and industry, using our proven business model – especially now we've added 100% online offering." (Read more about how online learning presents a channel of growth for Wall Street English). 
The English training market in Poland is competitive, however there's a clear business opportunity for Wall Street English to differentiate itself as a premium brand delivering best-in-class, personalised solutions to learners.
Wall Street English is prioritizing opening new centers in Warsaw, but is also looking at the opportunities in other large cities such as Łódź, Katowice, Krakow, Poznan and Wroclaw, where more than half of Poland's English learners are concentrated.
Learn more about Poland franchise opportunity. 
Find Out More About the Invesment Opportunity
Watch the webinar on franchise opportunities in Poland to learn about how the English training market is growing, and why Wall Street English is well positioned to compete in the market.